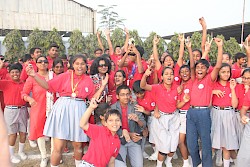 Vision International School is a microcosmic society where students come from varying backgrounds. Growing up together for years enable students to shed their prejudices and inhibitions. It also imbibes a spirit of community, of friendship and teaches them  to adjust and accomodate. The student community is divided into Four Houses – Alpha [Red] , Gamma [Green] , Kappa [Blue] and Sigma [Yellow]. Each house is led by a House Mistress and a team of dedicated House Teachers. Each House is also led by a House Captain and House Vice- Captains who are entrusted with their responsibilities through the Investiture Ceremony.
Throughout the ye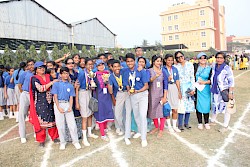 ar, various Co-curricular and Extra-Curricular Contests are organized in which pupils of all houses participate. These include Inter House English and Vernacular Elocution, Inter – House Quiz Contest, Inter – House Table Tennis Tournament, Inter – House Badminton Tournament, Inter – House Volley Ball Tournament, Inter-House Debate, Inter – House Throw Ball Tournament, Inter - House Athletic Meet & Inter – House Basket Ball Tournament.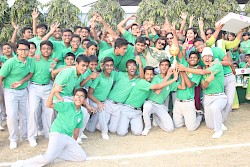 At the end of the year, the house with the highest points is declared the Champion House and felicitated on The Annual Prize Day.