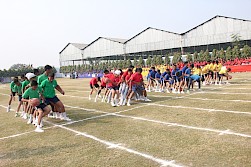 Most people claim that the best memories they have of their school days are the times they spent on the school sports ground! The Vision International School campus offers a sprawling  2 acres Sports Ground where one can find our students running, playing, shouting,  cheering .........and having the time of their life.
The V. I.S Sports Ground houses a basketball court, Volleyball court, Football Ground and a Badminton Court. The students are taught all these games by their games teachers & trained coaches. Inter- house competitions are also conducted for all these games. Moreover, the school provides the students the facility for evening games whereby they get special coaching  for all these games after school hours under the guidance of trained coaches.
The Sports Ground bri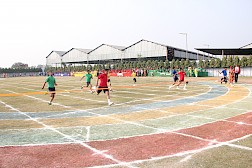 ms with excitement during our inter-house Athletic Meet in December. The students get an opportunity  to show case their speed and strength in various athletic events like sprinting, long-distance running, high jump, broad jump, triple jump, discus throw, shot-put throw tug-of- war etc.